Who is Müller? No, seriously – who is this acoustic guitar strumming character whose Beck-meets-Syd Barrett CD-R effort surfaces in a Salvation Army thrift store, without a trace of online history or viable evidence confirming its history and origins?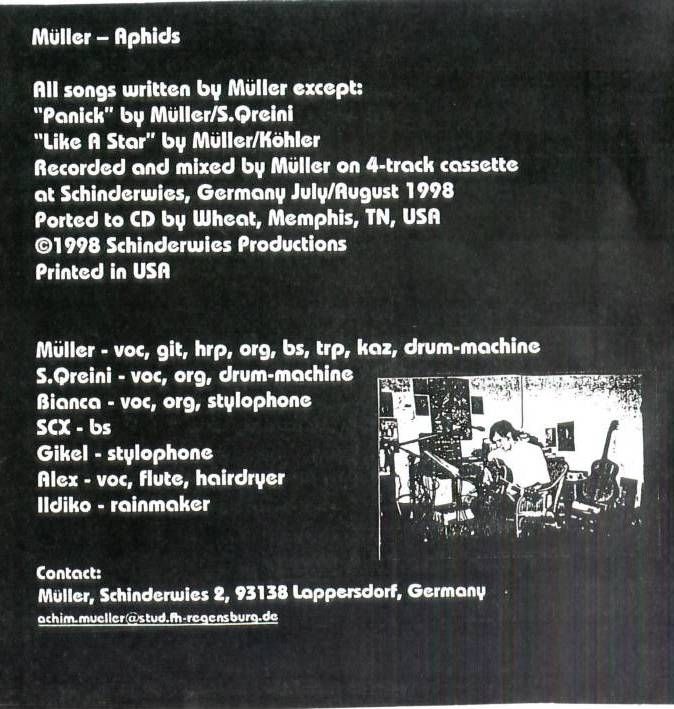 The jewel case has a primitive color laser printer generated insert crediting S.Qreini, Bianca, SCX, Gikel, Alex, and Ildiko as fellow noisemakers in this sprawling goofiness…and was remarkably "Ported to CD by Wheat, Memphis, TN, USA" from its German 4-track cassette source tape.
Very little on this disc suggests a twee stylistic vision (Eric's Trip, Elevator to Hell, Guided by Voices) and it's not driven by fiercely singular artistic method (Jandek, Daniel Johnston, John Frusciante).  There's a degree of humor and nonsense – but as a sonic jester, Müller doesn't have the cleverness of a King Missile interlude or the remarkably misled abandon of the Sonny Bono solo LP.
Listen to it, and see what you think. Perhaps you'll contact him. I may not.
Müller 'Aphids'
{ Comments on this entry are closed }