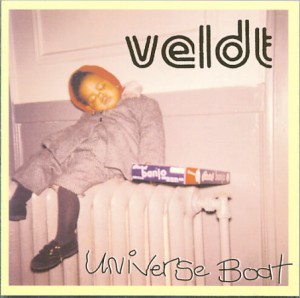 I couldn't help being a Veldt fan from the very start – early press described  the Chavis brothers driving a jeep under rural North Carolina skies, their in-dash mixtape jubilantly positioning Cocteau Twins next to Public Enemy.  It was the delirious  "pre-grunge" era, and hip hop beats & shoegaze seemed a brilliant fusion of audio textures.
Veldt were initially somewhat of a triumph of idea over product. Their first disc (Marigolds) featured the brilliant "CCCP", but overall was not amazing. Their major-label sophomore effort (Afrodisiac
) – while sonically ambitious and rewarding – came across as conceptually dated ("Revolutionary Sister"?) from the moment it hit the cut-out bins (which, unfortunately, was shortly after its release).
Still, I stuck with the band over the years and bought some promo CDs (for non-album tracks & interviews) and the "Soul In a Jar"  vinyl 12″ (remixes & instrumentals).
How fitting then that 'Universe Boat', arguably their finest record, surfaced in 1996 on the tiny indie label Yesha and was barely heard by anyone.  Fans of Veldt who haven't heard this album have no reason to fret over the inflated prices on Amazon
or Half.com.  Continue to watch for it on eBay or in the used section of your local music shop, and definitely check out the current Chavis brothers project Apollo Heights.
Meanwhile, here's the fantastic 'Universe Boat'.