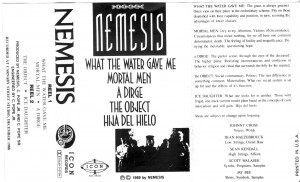 I never really liked this stuff, honestly.
In fact, I'd revisited the music on a few occasions and still shrugged at the revered presence which Nemesis enjoyed in the late '80s music scene in Detroit.  There was always the novelty factor of vocalist/frontman John Cross being the elder son of my high school drama teacher – but by the time 1989 rolled around, John was no longer a student there, and my fellow 10th grade "goth-industrial" enthusiasts seemed (to my sensibilities) to be lauding a phantom.  However, I've kept the tape safely in my collection for decades now due to a few factors worth mentioning:
Firstly, there is one rather iconic tune here ("The Object") which has enough confident sonic sprawl and liberated synthesizer invention to hint at a possible brilliance that might have become album number two, had the band survived. It was also the track which I'd happened to dub from a broadcast on WPHS FM, a neighboring high school's student radio station…which led to me actually parting with the 3 bucks  to buy the thing.
Another endearing Nemesis moment was their opening slot at the Christian Death show that never happened.  I guess I always sort of blamed them for the overall let-down of that event.
And, of course it didn't help their cause that a fairly prominent rap act named Nemesis was getting solid promotion that year …or that the timely release of the pre-Candlemass demo recordings revealed that they bore the earlier moniker of Nemesis, as well.
Anyway, at some point in the early '90s there was no more goth-industrial Nemesis…and members came and went under a new (and more industrial) project named Noc Barrage, and I lost interest but kept the tape because I knew one day it would be a scarce nostalgic curio…so here it is: